Radha Beauty Aromatherapy Wood and Glass Diffuser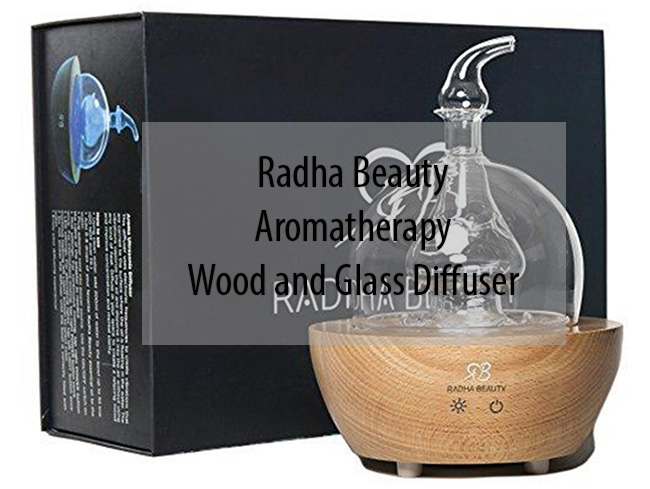 Aromatherapy is way to create an environment where your mind and body can relax. A few drops of your favorite essential oil or the one to sooth and relax you mind, in diffuser is all you need for this therapy. Diffusers will help essential oils to spread a decent amount of aroma in air which will not be overwhelming. There are many options to buy diffuser and today i will share with you the one by Radha Beauty. Radha Beauty was founded in 2014 by Rebekah Letch and are USDA certified which means their products are pesticide, chemical and gmo free. Let me tell you more about their aromatherapy wood and glass diffuser.

Product description

An ultrasonic cool mist aroma humidifier with changing colored LED lights. Similar to our 120ml Diffuser but now in a higher end, luxurious design made of beautiful wood and glass!

Direction of use
Add water to fill line along with a few drops of your favorite essential oil and enjoy!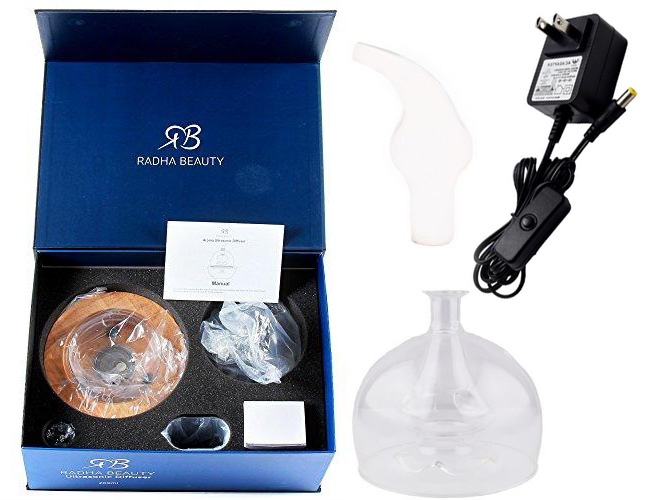 This diffuser is a luxurious design of common diffuser and is perfect for home spa where you not only benefit of its working but it also adds the beauty to your interior. This product comes with 1 Essential Oil Aroma Diffuser, 1 Measuring Cup, 1 Adapter with 4.5 ft cord and 1 User Manual. Its capacity is 200ml and is made of wood and glass. Radha Beauty also offers their spare parts including glass diffuser lid, glass diffuser nozzle and glass diffuser power plug which you can buy separately if any piece is broken or need replacement.

It is easy to setup and with manual you can see step by step to arrange all the pieces. Once arranged, place it in any corner or on table, add few drops of essential oil in water, which should be measured by cup comes with it, and switch it on. It will switch off automatically once it runs out of water. Being ultrasonic diffuser, it doesn't use heat to diffuse oils in air instead it uses cold mist technology which doesn't effect the temperature of your room and need less oil but at same time as it release mist, it can effect on humidity level of room. If you are facing dry weather then it will help balancing humidity level in room. It is a noise free diffuser and there will be no sound while it is running.

Once the water is run out, you can refill it and add more essential oil. You can also adjust mist flow and either can use continuous mist flow or select flow with intervals. It uses LED lights and depending on your mood you can switch your favorite light including red, green, blue, pink, yellow and white which can act as color therapy as well. This diffuser is perfect when you are stressed, having sleeping issues or during any illness. In winters it will help you create a cozy environment to relax.

Overall if you are looking for a diffuser which not only create relaxing and soothing environment around you but also adds beauty to your interior, this wood and glass diffuser is perfect for you.

Radha Beauty Aromatherapy Wood and Glass Diffuser is priced $39.95 at RadhaBeauty
comments powered by

Disqus