Palmer's Skin Therapy Oil for Face and Body - Review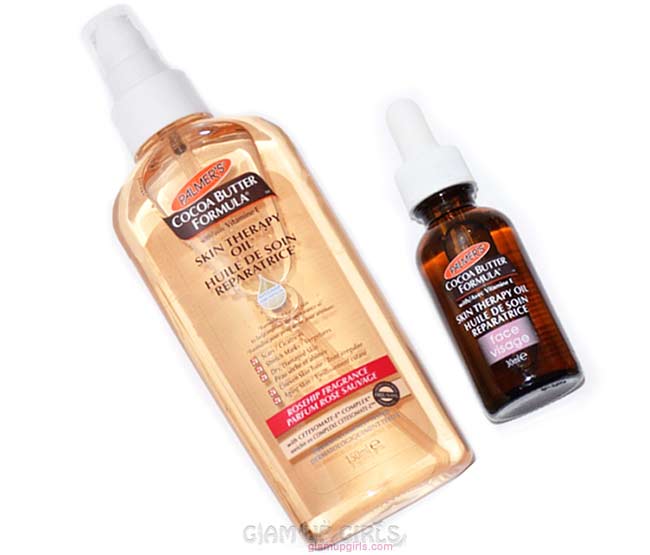 Palmer's Skin Therapy Oils are very famous around the world for their effectiveness and multitasking ability. I have dry skin and love to try face and body oils more then lotions or creams. They not only have less chemicals but the natural oils work better in long term. On the other hand oils are not only for dry skin but are equally effective for other skin depending on your usage. For oily skins you can massage them on skin and then wipe with wet cloth to remove extra oil. This way the necessary oils are absorbed and the bothering remains are wiped out. So let me share my opinion on these skin therapy oils.

Product description for Skin Therapy Oil for Face

Transform your skin with a powerful blend of 10 pure precious oils, Retinol, Vitamin C and our exclusive Cetesomate-E® Complex.
Skin restorative oils along with natural Cocoa Butter, Retinol and Vitamin C deliver multi-purpose, anti-aging skin benefits.

Ten Pure Oils help moisturize and smooth fine lines and wrinkles while Retinol and Vitamin C help improve and brighten tone and texture. This lightweight, non-greasy formula absorbs quickly, while the Cetesomate Complex helps deliver all of the essential vitamins and nutrients directly into the epidermal layer of the skin. Skin looks younger-looking with a more glowing and firm appearance.

Hypoallergenic - Paraben Free - Phthalate Free - Dermatologist Tested

Product description for Skin Therapy Oil for Body
Palmer's Cocoa Butter Formula Skin Therapy Oil is an advanced multi-purpose skin perfection product that can be used all over the body. This preservative-free, lightweight formula contains an exclusive blend of key ingredients formulated to help improve the appearance of scars, stretch marks, dry, damaged skin, uneven skin tone, aging skin and fine lines and wrinkles. Skin looks and feels instantly soft and smooth with this unique, non-greasy, non-staining formula.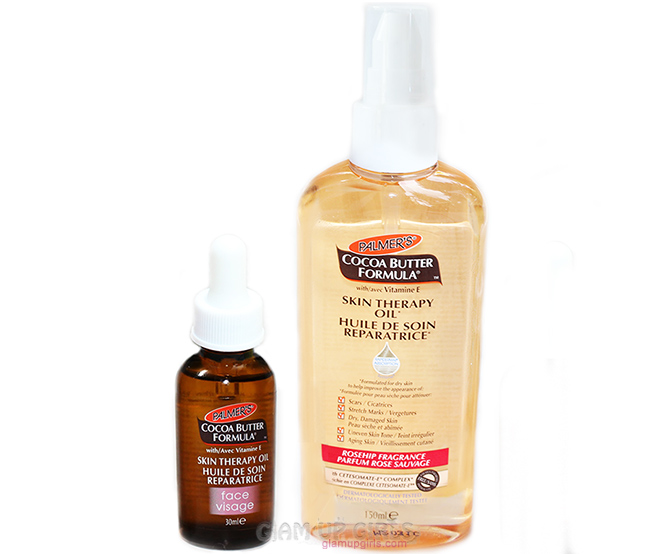 Palmer's Skin Therapy Oils for Face and Body Rosehip fragrance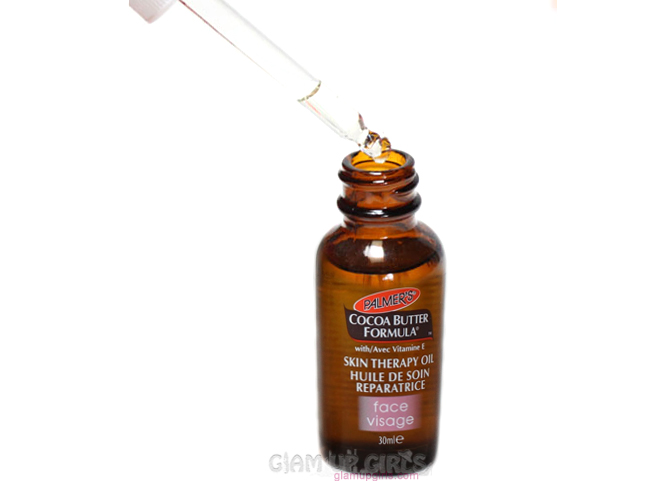 My Thoughts

Skin therapy oil for body comes in plastic bottle with pump dispenser while the oil for face comes in dark amber bottle with dropper. Both oils have rose fragrance mixed with cocoa butter smell which is very pleasant, light and not bothering to sensitive nose. The oil for body is multipurpose oil which claims to perfect your body from many issues while the oil for face claims to improve your skin texture and complexion while making it glow with in.

Palmer's Skin Therapy Oil for body is non greasy and you can easily use it after shower without worrying that it will stain your clothes. while this is perfect body oil for winters for every one but if you have dry skin you will love it in every season. It is not heavy and feel light on skin while the light rose scent gives you refreshing feeling. The organic oils including sesame, rosehip, Vitamin E and canola oil with pure cocoa butter in this formula claim to improve the look of your body and reduce the different scars, uneven skin tone and aging signs. On top of that it keeps the dry skin moisturized for very long comparing to other lotions and creams. It definitely improve skin tone and appearance while leaving it soft and smooth. The other best use for this oil is if you wax or shave your body regularly then this oil is your savior. It not only help make your skin better after waxing but also regular use will help with the ingrown hairs which can be very unpleasant.

Palmer's Skin Therapy Oil for face is an amazing oil for every skin. It targets the fine lines and wrinkles but you do not have to wait them to appear before using this oil. The blend of 10 oils including rosehip oil, apricot oil, macadamia oil, argan oil and many others will make you love your skin. Apart from these oils it includes vitamin C and ratinol which brighten your skin, help with wrinkles and are even suitable for acne prone skin. The continuous use of this oil will leave your skin smooth and glowing with out making it oily. The very light weight formula keep your skin hydrated for very long and you will see the improvement in your dull and dry skin instantly. It can be perfectly paired with your foundation and you can blend it more easily.

Overall these both oils are worth trying and they will make you love your skin. They leave the skin soft, smooth, hydrating and improves the skin tone and uneven skin. If you are looking for good face or body oil then i will highly recommend to try these one before spending fortune on expensive brands.

In Favor

Both oils are very light weight
Have pleasant light rose smell
packaging for both products are very good.
Leaves the skin soft, smooth and hydrated for long.
Doesn't feel greasy or stain
Help improving skin texture and tone
Body oil is perfect for after wax and shave
Not in favor
You think they are pricey
You do not like rose or coco butter smell
My Rating

5/5

Palmer's Skin Therapy Oil for Face is priced Approx. PKR1500 and Skin Therapy Oil for Body is priced Approx. PKR1100. They are available on departmental and online stores.
comments powered by

Disqus