WELL-BEEING BEE-AWAKE Facial Cleanser for Dry to Normal Skin - Review
Natural products have been in rage too much lately that it seems like they are taking over other chemical based beauty care products. There are many brands launching their products. I have been testing WELL-BEEING 100% natural products, hand made products. Today i am going to review their BEE-AWAKE facial cleanser for dry to normal skin.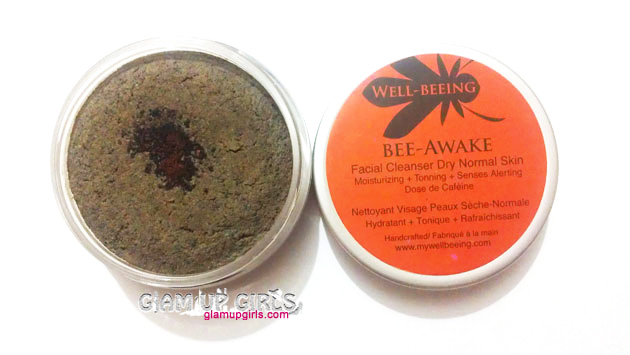 Key Ingredients

Caffeine, Kaolin clay, fuller's earth, oatmeal, sucrose, sweet almond oil.

Product description
This daily cleanser for dry and normal skin. Nourishing Kaolin clay, absorbing fuller's earth balances skin sebum while oatmeal deep cleanses. Gentle exfoliation with sucrose helps eliminating dead skin cells away. Vitamin rich first cold-pressed organic sweet almond oil lightly moisturizes the skin. Alert your senses with the awakening dose of caffeine that helps with puffy skin to get firm, smooth and tighten its appearance. Antioxidants contained in caffeine counter free radicals and aid eliminating them, giving a younger and healthier looking skin. This cleanser also helps to restore the hydrolipidic barrier and forms a nourishing & protective film on skin.


My Thoughts

This cleanser comes in glass tub and have very strong and little weird smell which i cannot explain much but as the product claims not to have any artificial smell or color but only natural products so if i look at ingredients i would say it can be of coffee. This smell might be little bothering when you will directly smell it however it will not feel much while using it. This cleanser is multitasking as it will cleanse, moisturize and tone the skin. This jar has enough product to last three months if used once a day and by keeping the jar protected from water. As it has all natural products without any preservative water will decrease its shelf life.

The granules are fine and not harsh to the skin. I take small amount of product in hand and add few drops of water to make paste and gently massage or more appropriately scrub on face in upward and circular motion. The paste will not be smooth but have little grains which will help mildly exfoliate the skin. After washing it is good to pat dry the skin instead of rubbing so the moisturizing factor don't go to waste.

This product is for dry to normal skin and i have dry skin, this product did work great for me. It leaves the skin soft and super clean. I felt instant glow after one wash, it did exfoliate the dry skin on my face and leaving it moderately moisturized. It did not make skin dry like other scrubs or cleansers do but as i have very dry skin i always go for moisturizer after washing but if you have normal skin you might not need any moisturizer. You can use this cleanser twice a day and if you have dry flaky skin or a face tanned from sun burn or any other environmental reasons you will start feeling difference in your skin in better way after few uses.

Overall i will definitely recommend this cleanser to ones with normal to dry skin for soft, clean and glowing skin

In Favor
100% natural handmade product
Makes skin clean and glowing
Exfoliate the skin
Lightly moisturize the skin
Granules are not harsh
For dry and normal skin
Not in Favor
Smell is very strong
Lessen the shelf life if water added in jar
My Rating

4.5/5


WELL-BEEING BEE-AWAKE Facial Cleanser is priced PKR550 and can be bought online from their facebook page here.
Have you used this Cleanser? What do you think about natural beauty products?
comments powered by

Disqus