ColourPop Golden State of Mind Eyeshadow Palette Review and Swatches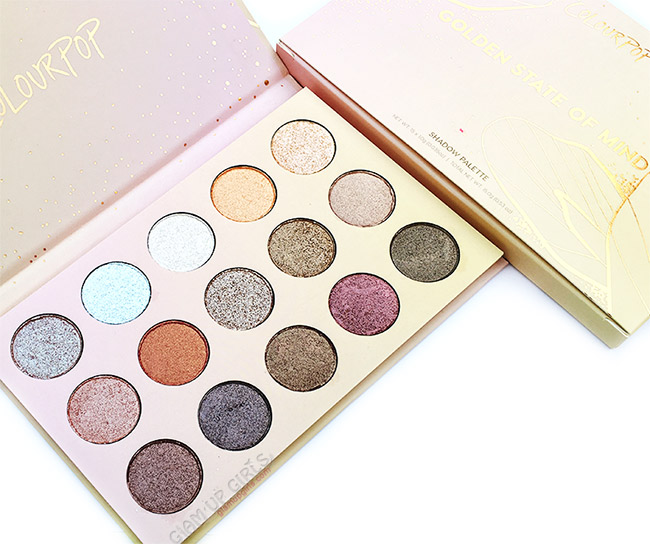 Today i am going to share my thoughts on one more ColourPop palette called Golden State of Mind Eyeshadow Palette. I got this palette for free with my haul during holiday sales. It is a glitter palette which is meant to be used with wet brush. It looks quite attractive with 15 shimmery and glittery shades which range from light to medium dark colors. Lets explore this palette in detail.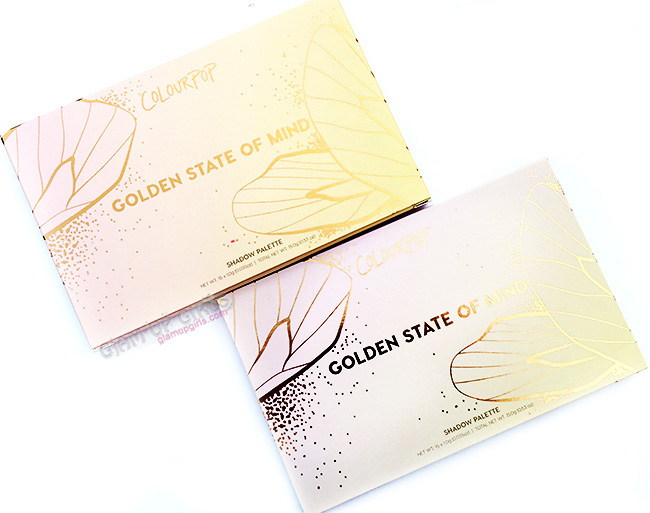 Product description

Pressed Powder Shadow Highly pigmented shadow that applies evenly and feels ultra-velvety and silky. This long wearing formula contains a unique combination of softer powders which adheres easily to the eyes, gives a soft focus effect, and blends smoothly and evenly.

Formulated to be used wet.
Finish Ultra-Glitter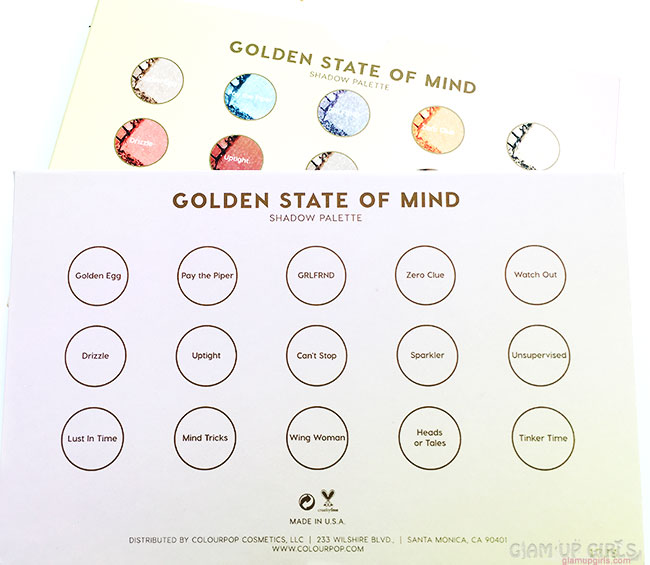 ColourPop Golden State of Mind Eyeshadow Palette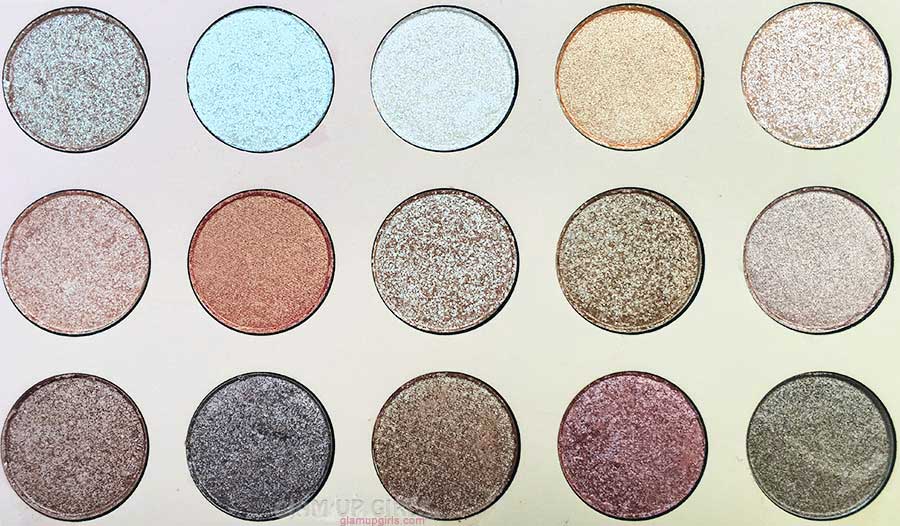 ColourPop Golden State of Mind Eyeshadow Palette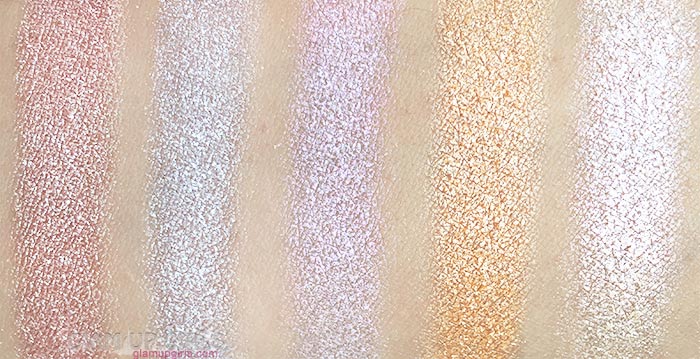 ColourPop Golden State of Mind Eyeshadow in Golden Egg, Pay the Piper, GRLFRND, Zero Clue, Watch Out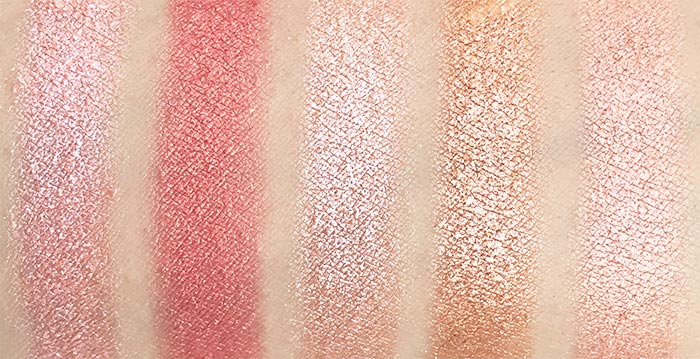 ColourPop Golden State of Mind Eyeshadow in Drizzle, Uptight, Can't Stop, Sparkler, Unsupervised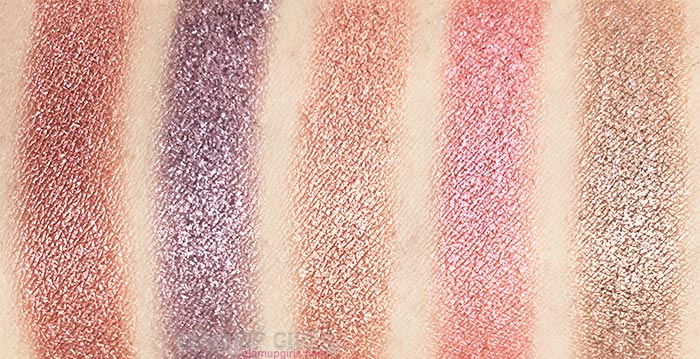 ColourPop Golden State of Mind Eyeshadow in Lust in Time, Mind Tricks, Wing Woman, Heads or Tales, Tinker Time

My Thoughts
This palette comes in pale yellow cardboard packaging with gold color words embossed on it. It contains 15 shimmery, frost and glittery shades. I have not noticed any chunky glitter in any shades and most of the shades have soft buttery texture which are easy to apply with very less fallout. Although shades are supposed to be applied with wet brush but i have applied it dry in above swatches and the pigmentation is really good for all shades. However when applied wet they last longer and are more intense.

Lets talk about each shade separately.

Golden Egg defined as pinky beige with turquoise glitter. It is a warm peach shade with silver shimmer and frost finish. The texture is soft with good pigmentation.
Pay the Piper defined as icy blue and is silver white shade with frost finish. The texture is soft and crumbling with good pigmentation.
GRLFRND is defined as pink with violet glitter. It is duochrome shade with white base and pink shimmer. Its pigmentation was also good but had soft crumpling texture
Zero Clue defined as vibrant warm yellow and is light shimmery orange shade. Its texture is also little crumpling with good pigmentation.
Watch Out is defined as golden ivory with pink glitter. It is shimmery light yellow gold color. Its texture and pigmentation of this shade was good.
Drizzle is describes as icy baby pink and is warm coral pink shade with frost finish. The texture is soft with good pigmentation.
Uptight defined as rose gold and is a lovely dark pink with golden shimmer. The texture is soft with good pigmentation.
Can't Stop describes as icy champagne ivory. It is very light peach shade with champagne shimmer. The texture is little crumbling with good pigmentation.
Sparkler is defined as silvery bronze and is light bronze shade with shimmery finish. The texture and pigmentation is very good.
Unsupervised defined as pink champagne is shimmery medium peach shade. The texture and pigmentation of this shade is good.
Lust in Time defined as medium cool rose and is medium copper shade with red hues and metallic finish. The texture and pigmentation is good.
Mind Tricks defined as icy blackened purple and is cool tone dark purple brown shade. The texture is crumbling with good pigmentation.
Wing Woman defined as red brown with green and gold glitter. It is medium copper brown shade with metallic finish. The texture is soft with good pigmentation.
Heads or Tales defined as icy cranberry. It is dark rosy pink shade with orange undertones. The texture and pigmentation of this shade is very good.
Tinker Time defined as blackened antique gold with blue glitter. It is a dark bronze gold shade with very good pigmentation and texture.

Overall i really liked this palette. It is perfect for the events when you need shimmery and glittery eye look. The shades are great to top on your eye lid after you have done your basic eye makeup. As it doesn't contain any base colors so you have to use it with other palettes or single shades. The texture of all shades is good enough to apply and blend easily with brush or fingers.

ColourPop Golden State of Mind Eyeshadow Palette is Priced $20
comments powered by

Disqus